On January 3, a music video for the upcoming 2022 Winter Olympic Games was released on the Chinese CGTN channel.
The bright and motivating video clip was attended by leading singers, famous bloggers, athletes and musicians from different countries. They performed the song "Together for a Shared Future" – this is the official motto of the Winter Olympic and Paralympic Games.
The music relay started in December 2021. The recording took place in more than 10 cities around the world, including Beijing, Moscow, St. Petersburg, New York, London, Paris, Madrid, Nursultan, Buenos Aires, Penhamo, Dakar and Jerusalem.
Chinese figure skaters Chen Lu, Pan Qing, Tong Jian, Russian figure skater Evgenia Medvedeva, American singer Holly Fleck and Kazakh singer Dimash Qudaibergen took part in it.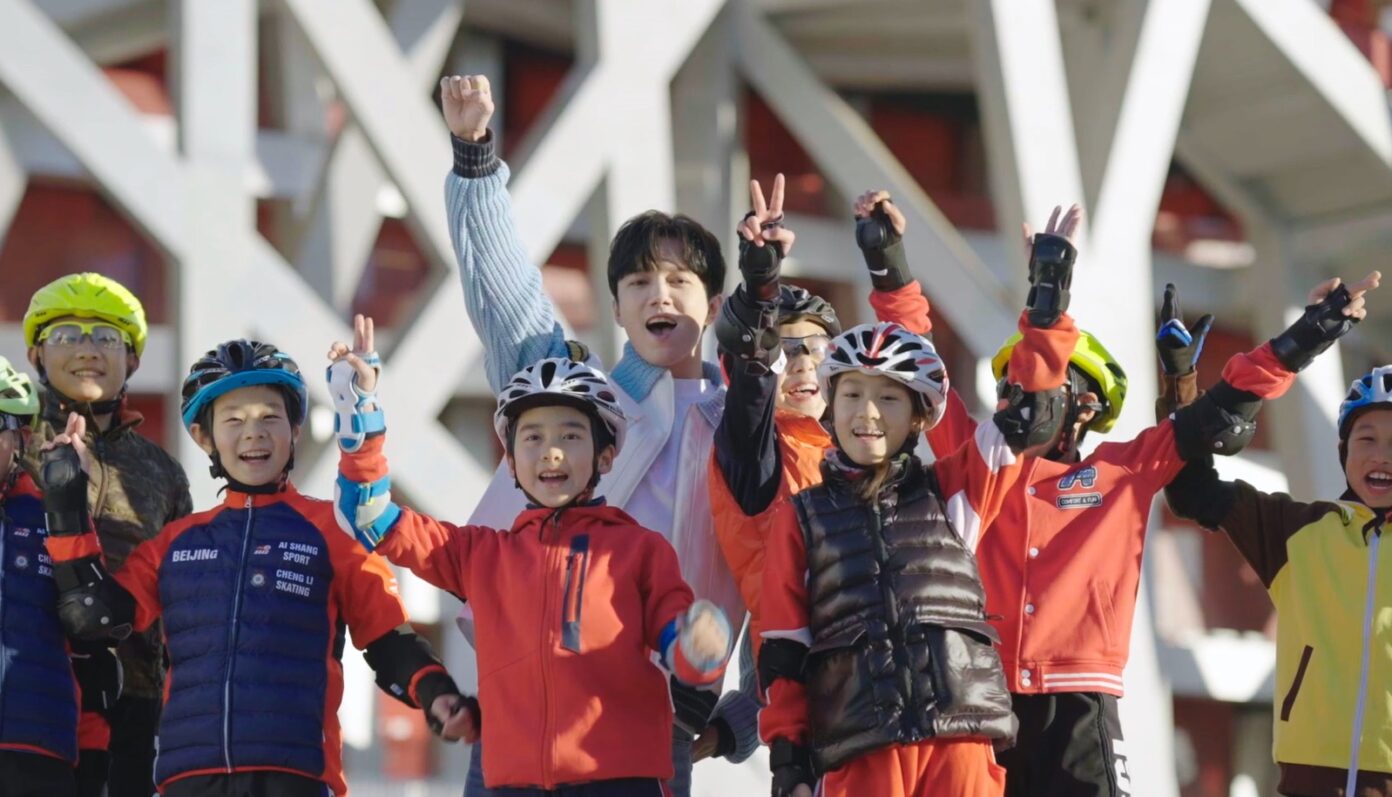 The shooting of fragments of the clip with Dimash's participation took place against the backdrop of the legendary stadium built for the 2008 Olympics.
"Dimash Qudaibergen has a lot of fun on the set of the video. It seems that this song is very suitable for Dimash and he easily switches from Kazakh to Chinese. The roller skating kids were happy to participate in the filming. We were lucky on this day – the sky was clear and the weather turned out great," the editors of CGTN TV channel shared.
In a short interview with the TV channel, Dimash said that, in his opinion, figure skating is the closest sport to music, because in figure skating, the speaker must demonstrate his artistry, show how close he is to music, how much he understands it, that this is a difficult, but the most beautiful sport.
"Let our athletes win, I wish them all good luck. Be healthy and let the Olympiad be successful. Good luck to the next Olympic Games held in Beijing!", – wished Dimash.
A challenge with the hashtag #TogetherforBeijing2022 is also starting in various social networks. To take part in it, you need to record a video with movements from the clip or sing a song in your native language. The challenge is held on the initiative of the Media Corporation of China. Its goal is to unite people from different countries and express best wishes to the organizers and participants of the Olympic Games in Beijing.