In honor of the 30th anniversary of Independence of Kazakhstan in one of the most prestigious concert halls of the world "Berliner Philarmonie" a concert was held, where along with the world classics Kazakh folk music and works of Kazakh composers were performed. Aiman Mussakhajayeva, an Honored Artist of the Republic of Kazakhstan, shared her impressions of the performance.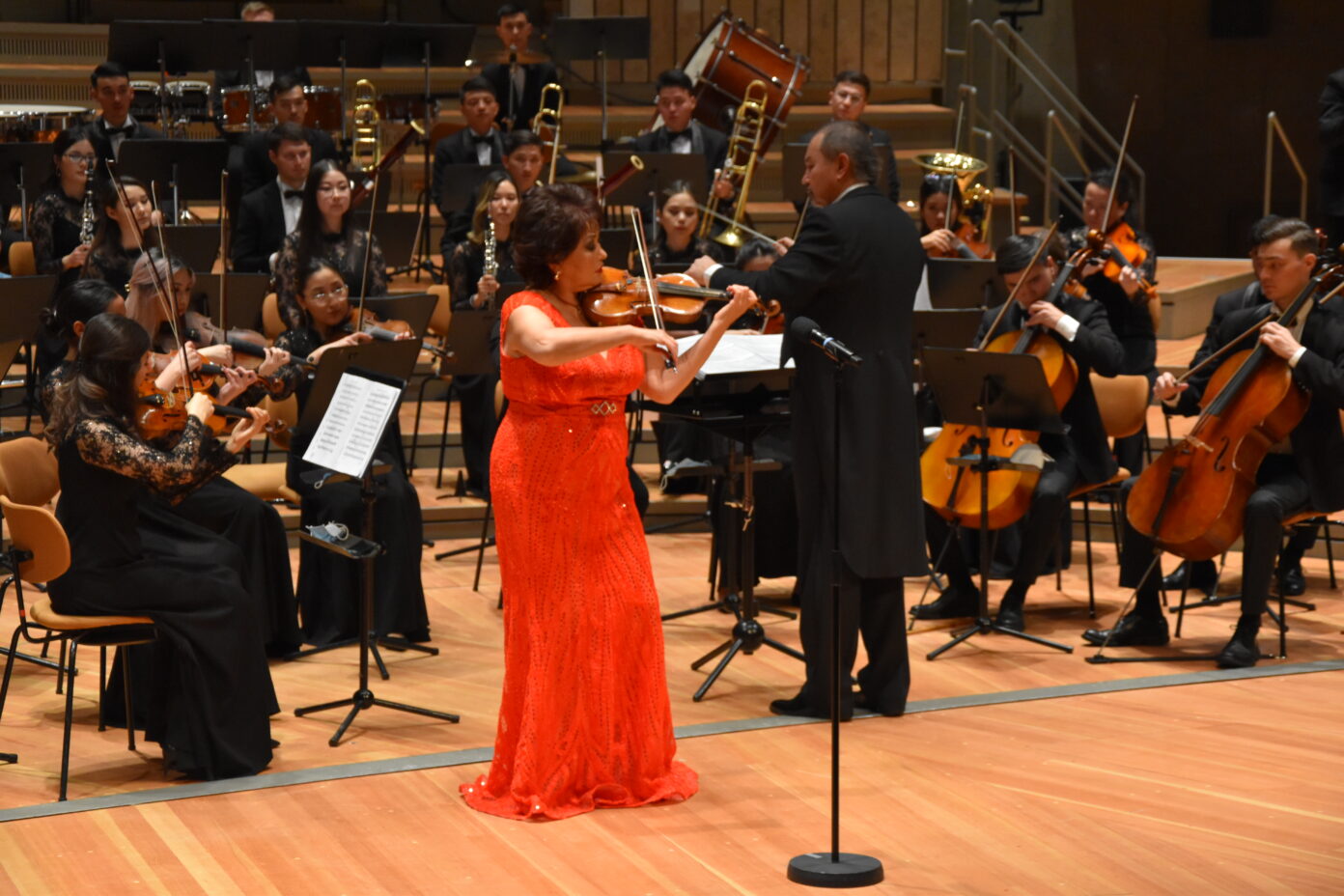 This concert, which was undoubtedly an event in the musical life of the German capital, was organized by the Embassy of Kazakhstan in honor of the celebration of the 30th anniversary of Independence of Kazakhstan. Kazakh Ambassador to Germany Dauren Karipov addressed the audience with a welcoming speech.
In his speech, Dauren Karipov emphasized that "Germany is for Kazakhstan the main strategic partner in Europe, with which Kazakhstan conducts an open, trusting and meaningful dialogue. There is a live connection between the two countries: these are those who moved from Kazakhstan to Germany, as well as 180 thousand Germans who continue to live in Kazakhstan.
The audience of the Berlin Philharmonic very warmly welcomed the sounds of dombra and the performance of Kazakhstani artists.
The day after the concert, the editors of DK Media World met with the rector of KazNUI Aiman Mussakhajayeva.
– Good afternoon! Let us express our delight about the last concert. We were in the hall among the German spectators. Everyone was shouting: "Bravo!" and clapped very well. It was felt that people really liked it. What do you think, as a cultural figure, a musician, what importance do cultural ties have for strengthening relations between peoples?
— It has always been believed that culture and sport are the avant-garde, which introduces the customs and rituals of other countries.
Arriving in Germany after a long break, we felt from the mood of the audience that people were hungry for communication, for art. They welcomed the creativity of young artists, our students, who played on such a big stage for the first time. The support of the hall gave them the opportunity to open up, show their talents.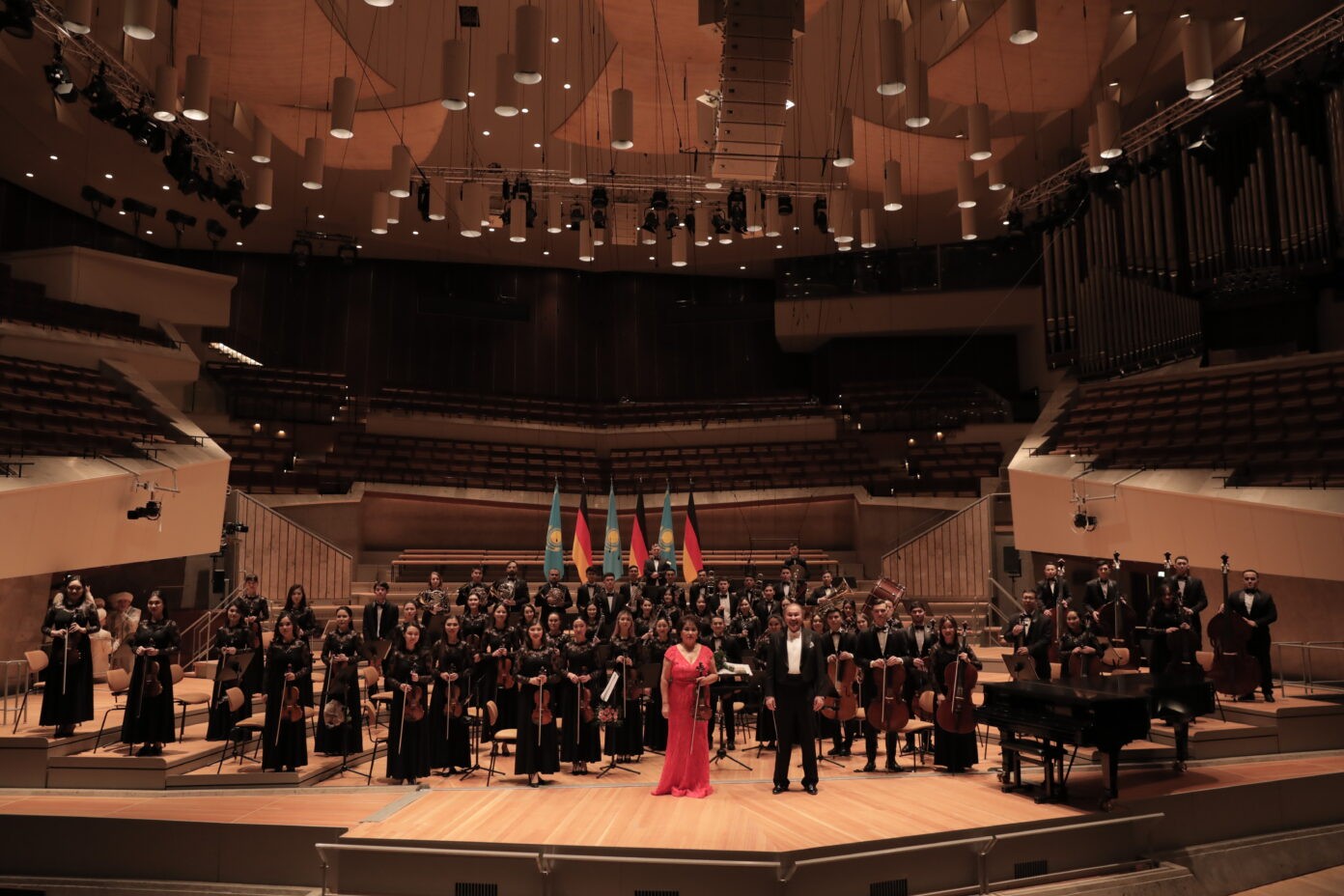 We are very glad that our concert took place, because we all lived in isolation, which did not allow for communication. It is noteworthy that we came out of this confined space at a concert dedicated to the 30th anniversary of our country's Independence. For this, we should thank the Ministry of Culture of the Republic of Kazakhstan, which organizes concerts under the program of presenting contemporary Kazakh art abroad, as well as the Embassy of the Republic of Kazakhstan in Germany.
— At the end of the concert, you played two additional pieces together with the young musicians. Was it spontaneous or planned?
— At the request of the audience, we performed Kreisler's Praeludium and Allegro for Violin and Pablo Sarasate's Navarra with a small part of our violinist ensemble over the program. The performers are laureates of international competitions, first and second year students.
— Speaking of students: do you have an interchange with German universities?
— Today we signed a Memorandum with the International Private Academy of Music, with which we would like to start cooperation on the exchange of students under the academic mobility program and the organization of concerts.
— Will students from Germany come to you under the exchange program?
— We will be happy to accept students in Kazakhstan, we have foreign students studying here, but there have not been any from Berlin yet. We also organize concerts of professors from different countries and invite them to conduct master classes for our students.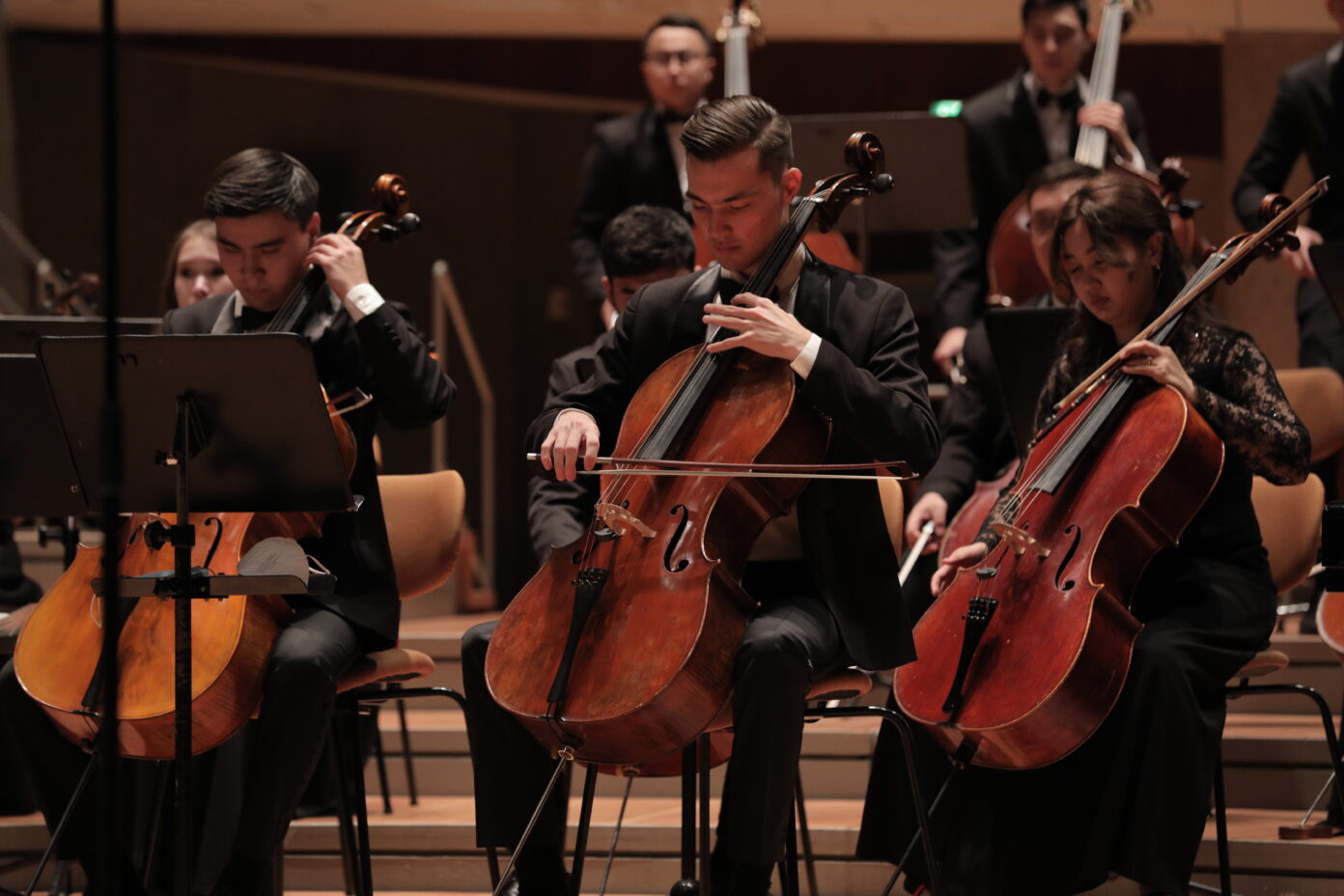 — Do you have students who have made a career in Germany, and also gained fame outside of Kazakhstan?
— Great interest abroad is aroused by the work of Rahat-Bi Abdysagin, who has performed here not for the first time, in particular his symphonic poem "The Flight of Time". He also gave a lecture in German about the work of Kazakhstani composers. Despite his young age, he has already written more than a hundred works.
You also know Dimash Qudaibergen, who graduated from KazNUI Master's degree and is studying for a doctorate, Ruhiya Baydukenova, who won at the Slavic Bazaar, our young star Yerzhan Maxim. And we have a lot of such young artists, they are all very talented. You saw many of them on stage yesterday.
— Are you planning joint performances with Dimash?
— When he was a student, we always included his performances in the program of University concerts abroad. Now he performs mainly solo, his concerts are often attended by KazNUI students – musicians who play folk instruments, as well as graduates, such as Olzhas Kurmanbek, who performs parts on kobyz.
We also plan to send students to Dimash's concert, which will be held in Dubai on March 25 this year, for a joint performance. Thus, we are constantly cooperating and would like to continue this way.
The article was prepared by the editorial office of DK Media World