Today, April 15, is the Lovers' Day in Kazakhstan. This holiday is dedicated to the heroes of the famous Kazakh epos "Kozy-Korpesh and Bayan-Sulu."
Since 2011, Kazakhstan has celebrated its own national Lovers' Day – "Ultyk gashiktar kunine oray" as an alternative to the international Valentine's Day. The idea to celebrate their own Valentine's Day with the national flair came to the City Department of Culture and Youth Policy and the Press Service of Almaty Akimat.
The Love Story of Kozy-Korpesh and Bayan-Sulu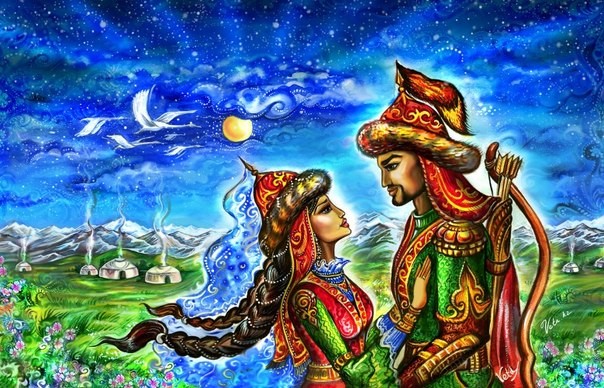 The Kazakh Lovers' Day acknowledges the heroes of the Kazakh epos "Kozy-Korpesh and Bayan-Sulu", their tragic and incredibly beautiful love.
The ancient legend tells that two childhood friends, Syrybay and Karabay, decided to marry their children, who had been engaged even before they were born.
Unfortunately, Syrybai died while hunting before his son was born. Growing up, Kozy and Bayan met and fell in love with each other, which made their families very happy.
However, time passes and Bayan-Sulu's father Karabai changes his plans breaking an oath he once made to his best friend. He decides to give his daughter in marriage to Kodar, a local paluan (strongman, wrestler) who once saved his flocks from the jute (mass death of cattle).
Kodar stands in the way between the lovers and in this love triangle Bayan's lover, Kozy, dies. The grief-stricken girl decides to take revenge on Kodar by resorting to cunning. She promises the man to marry him if he digs a well of spring water for her.
Kodar gets down to work digging the well deeper and deeper while holding on to Bayan's long plaits. At one point, the girl suddenly cuts off the plaits and Kodar stays in the well to die. Thus, Bayan-Sulu avenges her lover Kozy-Korpesh, and, never coming in peace with her loss, she stabs herself with a dagger on his grave.
The names of Kozy and Bayan have been inseparable for ages, and the beautiful love created by their hearts is still relevant today and becomes a symbol of a true and sincere relationship.
Lovers' Day Kazakhstani style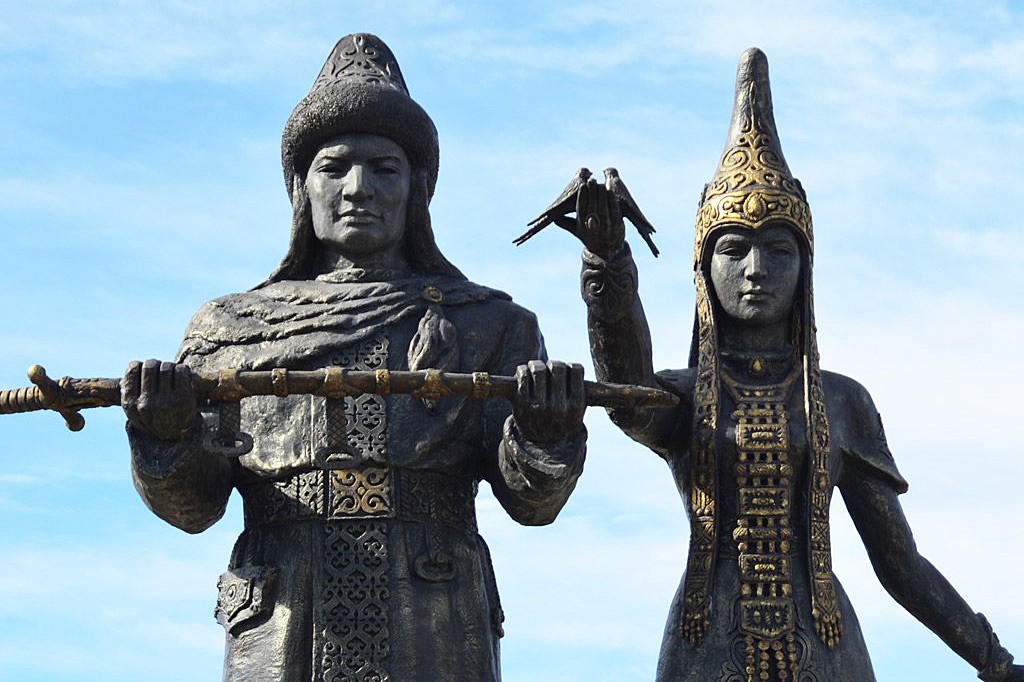 Today, Kazakhstani Lovers' Day dedicated to the two heroes of an ancient legend is intended to show the purity and beauty of love. It promotes chastity, the images of Kazakh women and national heroes. Besides, instead of the cold winter season, the holiday is celebrated in spring, the most romantic time of the year.
Every year, Kazakhstan tries to celebrate the Lovers' Day eventfully taking into account the Kazakh culture, customs and mentality. In the first year of celebration of the new national holiday more than three thousand people launched beautiful paper lanterns into the night sky of Almaty, and that event became one of the largest flash mobs ever held in the country.