On November 11, NHK Music Special hosted the long-awaited episode with the author of the piercing song "Autumn Strong" ("Don't Go") Koji Tamaki. Dimash Qudaibergen, who took part in the program, shared his feelings about this composition.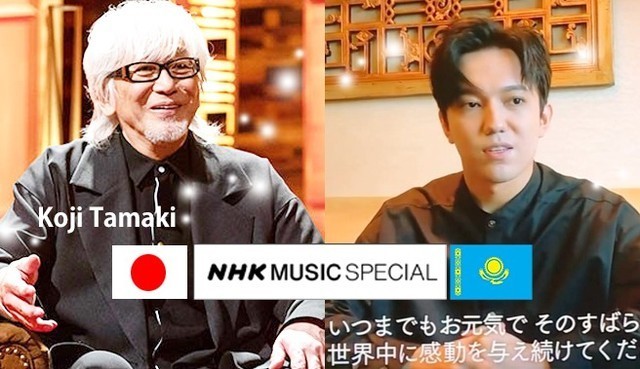 Episode of "NHK Music Special" on November 11 was really special, because the legendary Japanese singer Koji Tamaki was the guest of the program. The musician has not appeared in public for a long time and has not given interviews. Japanese viewers were looking forward to this episode.
Jacky Cheung and Dimash Qudaibergen were specially invited guests of the program. Both singers performed one of Koji Tamaki's most famous songs "Autumn Strong" ("Don't Go") in Chinese.
Popular Hong Kong singer Jacky Cheung was the first to sing a piercing song in Chinese. "Autumn Strong" in his interpretation was received by the Chinese public with great delight.
Later, Dimash Qudaibergen, inspired by the performance of Jackie Cheung, performed this song in China at the "I am Singer" contest in 2017. Since then, the composition has become famous not only in Asian countries, but also in Russia and Europe.
"I have great respect for Mr. Tamaki as a singer. As I listen to "Don't Go", I can feel the depth of the Japanese heart and the richness and great culture. Mr. Tamaki's work has never faded and is very special lead for the singers of younger generation today. I hope that he will continue to exert his power to reach even higher heights." shared Dimash.
Koji Tamaki was also glad to meet with the Kazakh performer:
"I am very happy to receive a greeting from Dimash. There are different versions of "Don't Go". And every singer who has ever performed this composition has managed to convey its depth regardless of age. I've heard that over time, the same things can be transmitted in completely different ways. And it's very nice, isn't it?"