A fragment from Dimash's performance of "S.O.S" at the Slavianski Bazaar-2018 will be shown on the popular Japanese program "The World Unknown to Matsuko" on TBS on 24 August.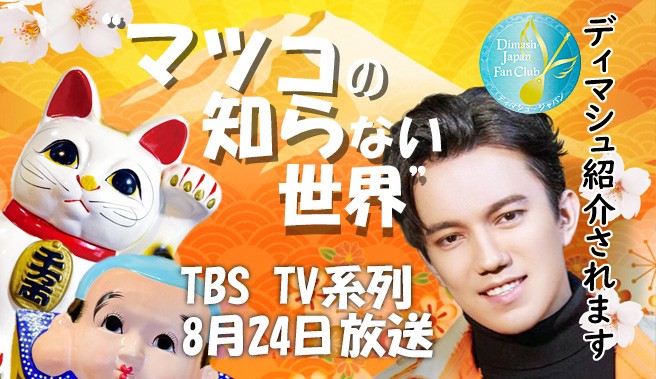 "A World Unknown to Matsuko" is without exaggeration one of the most popular talk shows in Japan, which is broadcast every Tuesday across the country. The program was first released in 2011 and to this day is a favorite show among viewers of all ages.
Dimash will be presented in it under the theme: "Singers with a high timbre of voice" on August 24 at 8:57pm Tokyo time (5:57pm Nur-Sultan time).
The release announcement says:
"Mysterious and amazing high-tone voices will clear your mind. We present to you beautiful singers with a high timbre, which the whole world pays attention to!"
The famous Japanese singer Ayaka Hirahara was the guest of the program. She, like Dimash, took part in the Tokyo Jazz Festival in 2020.
Being very impressed by the singing of the Kazakh artist, Ayaka told one of the producers of "The World unknown to Matsuko" about him. To learn more about Dimash, he consulted with members of the Dimash fan club in Japan – DJFC.
"The producer contacted us at the planning stage of the program. We told him about Dimash, where he is from, about his creative achievements. And although the subject of the program was announced as "High Voices", we explained that Dimash is a singer who sings equally beautifully in both high and low voices. The producer agreed with this," said DJFC administrators.
The producer himself was very happy to discover the work of a Kazakhstani performer:
"When we were planning the program with Ayaka Hirahara, she told me the name of Dimash Qudaibergen. Hearing his vocals, I was amazed. He's just an incredible artist with good looks and unique singing ability."