Dimash Qudaibergen's new song Okay is in the TOP-10 of Billboard's Hot Trending Songs charts. Also, the songs "Fly Away" and "Be With Me" keep their positions in the chart.
According to the latest data, Dimash's new composition Okay took 8th place in Billboard's Hot Trending Songs chart. On the line above is the song "Fly Away", which has been in the TOP-10 of the chart for 22 weeks.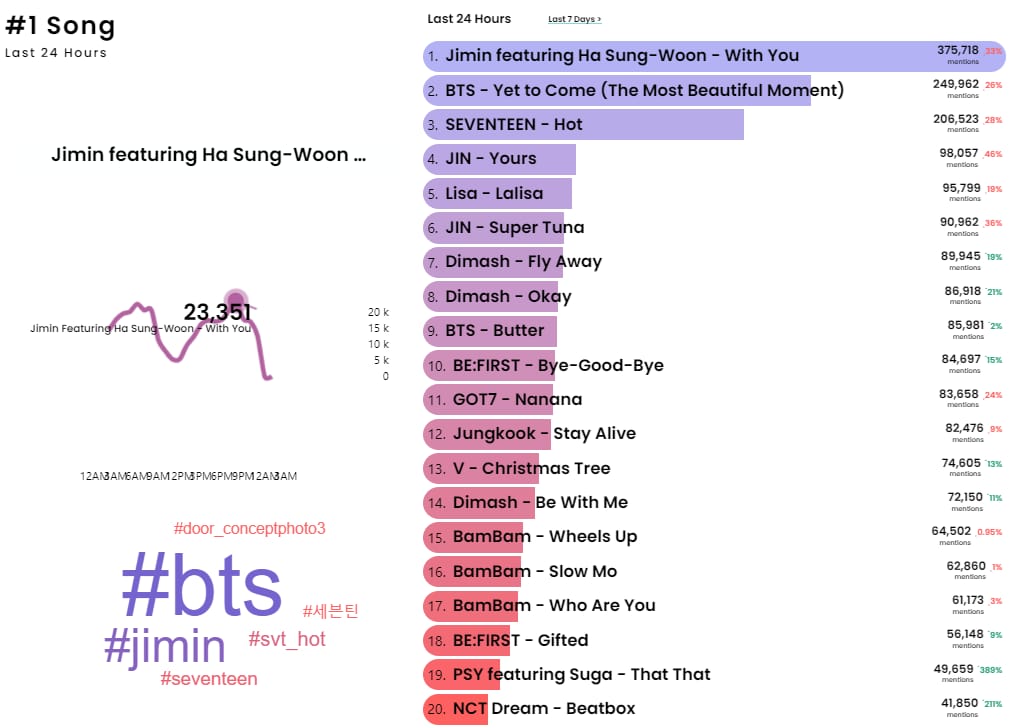 For the first time Dimash's song Fly Away entered the new Billboard Hot Trending Songs chart in the fall of 2021, when the artist's fans were furiously discussing the premiere in Twitter, sharing photos, GIFs and links to their favorite song. Hot Trending Songs is fundamentally different from other charts in that it tracks what songs people are talking about, not just what they're listening to.
Later the song "Fly Away" was joined by Dimash's song "Be with me", which stayed in the chart for 24 weeks. In January 2022 Dimash's compositions rocketed to the top of the chart, taking the 1st and 3rd places in the weekly chart.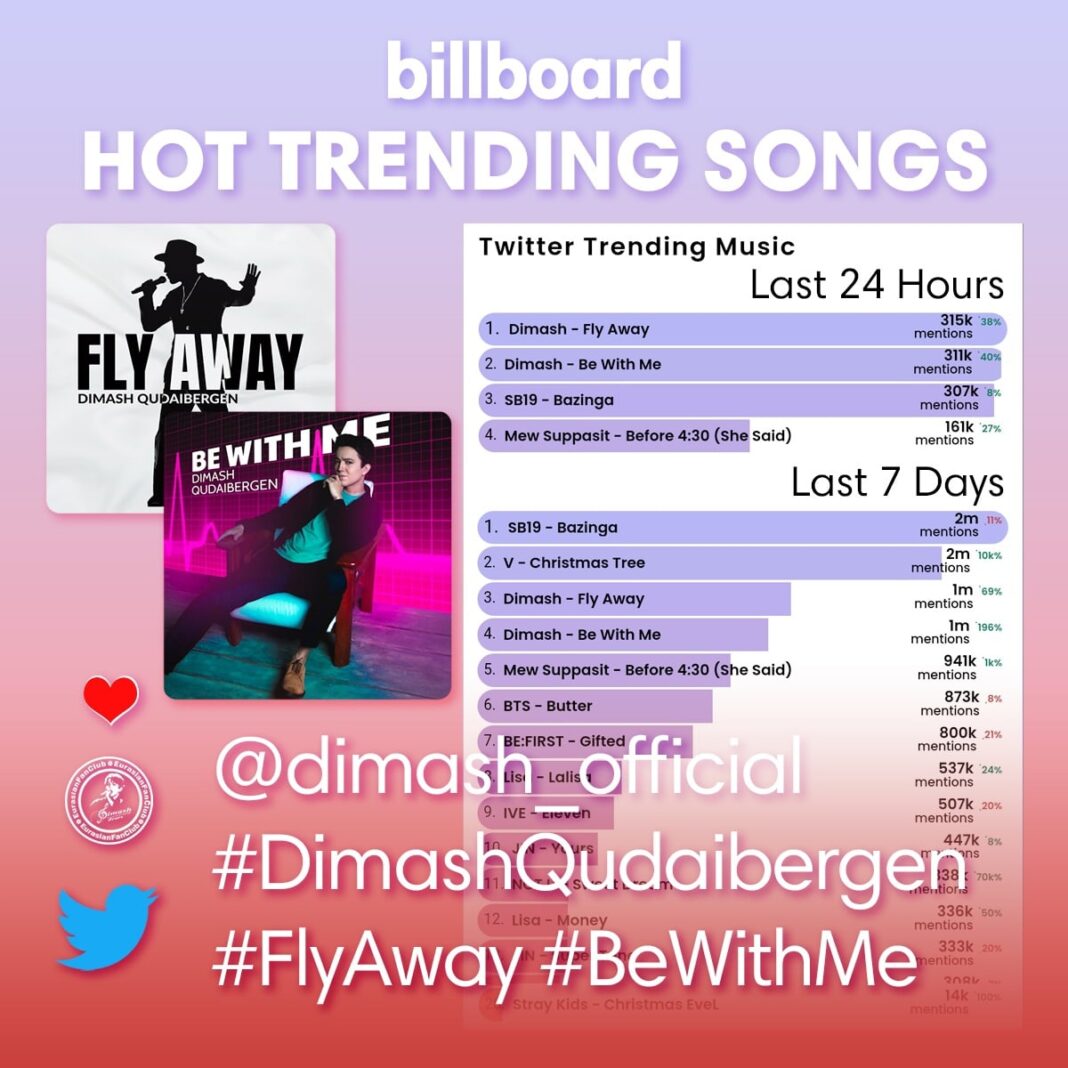 Forbes magazine has written about Dimash's compositions more than once and posted photos of the artist as the title track in articles about the chart results, "Kazakh superstar claims a second top 10 hit this week, as "Be With Me" arrives at No. 6. Qudaibergen is now one of a very small number of acts that have managed to place more than one track inside the top 10 on this weekly ranking, joining fellow globally-adored names like BTS and Blackpink's Lisa in this feat."
The chart results are also reflected in the publications of the World Music Awards, the international awards ceremony for the best-selling and most popular artists from around the world, and the international website, magazine and podcast network American Songwriter, which posted the results of Billboard Hot Trending Songs.
On May 15, 2022, the official World Music Awards account reported that "Fly Away" along with the song "Yours" by South Korean band member BTS Jin are the solo songs that have held the longest lead on Billboard's Hot Trending Songs chart.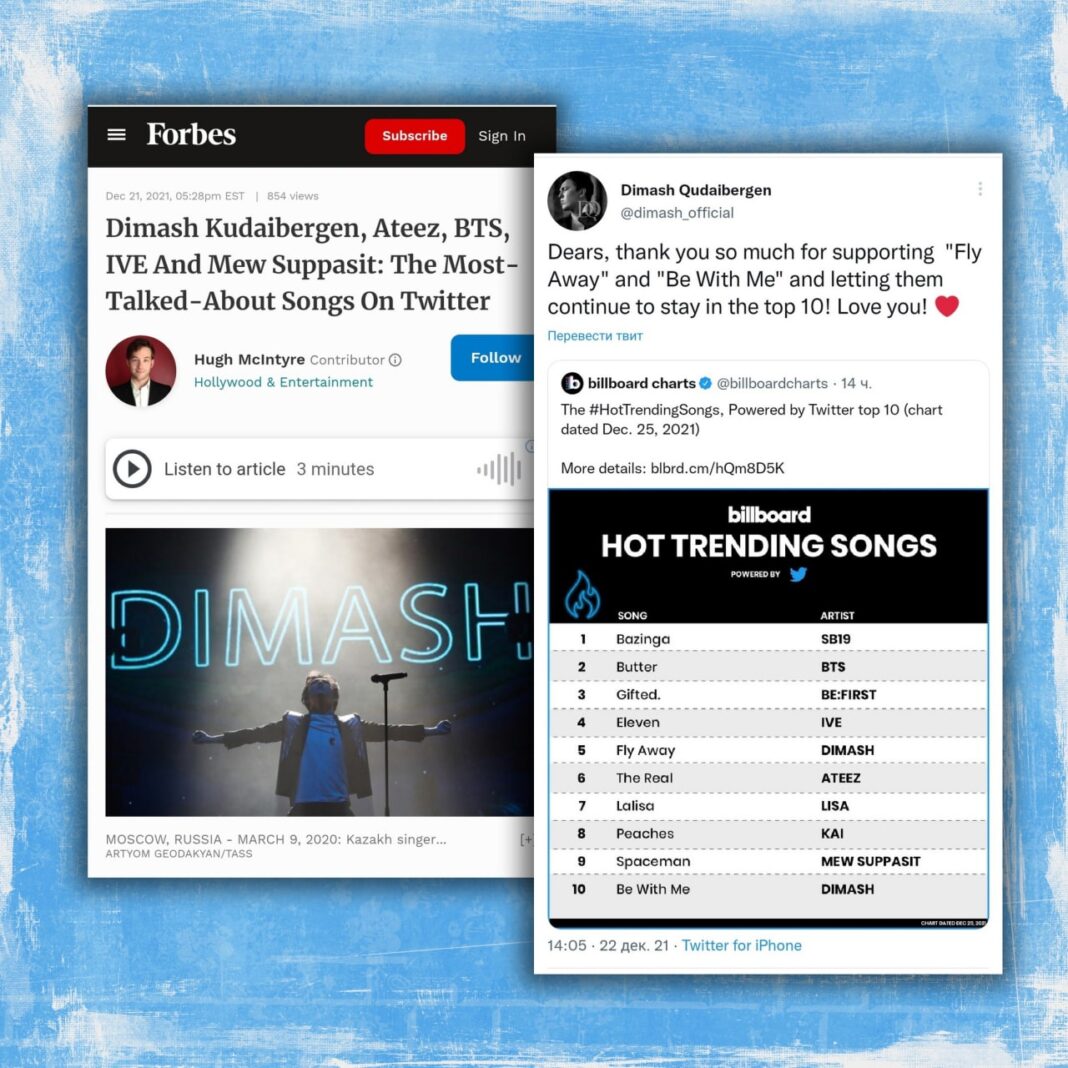 Dimash thanked his fans several times for their support: "Dear, thank you so much for supporting "Fly Away" and "Be With Me" and for letting them stay in the top 10! Love you!" the artist wrote on his Twitter account.
"Dears, thank you so much for supporting "Fly Away" and "Be With Me" and letting them continue to stay in the top 10! Love you!"