The Sal-Seri art studio, recently opened in Nur-Sultan, demonstrates how easy and soothing it really is to anyone just starting on the journey in the art of painting.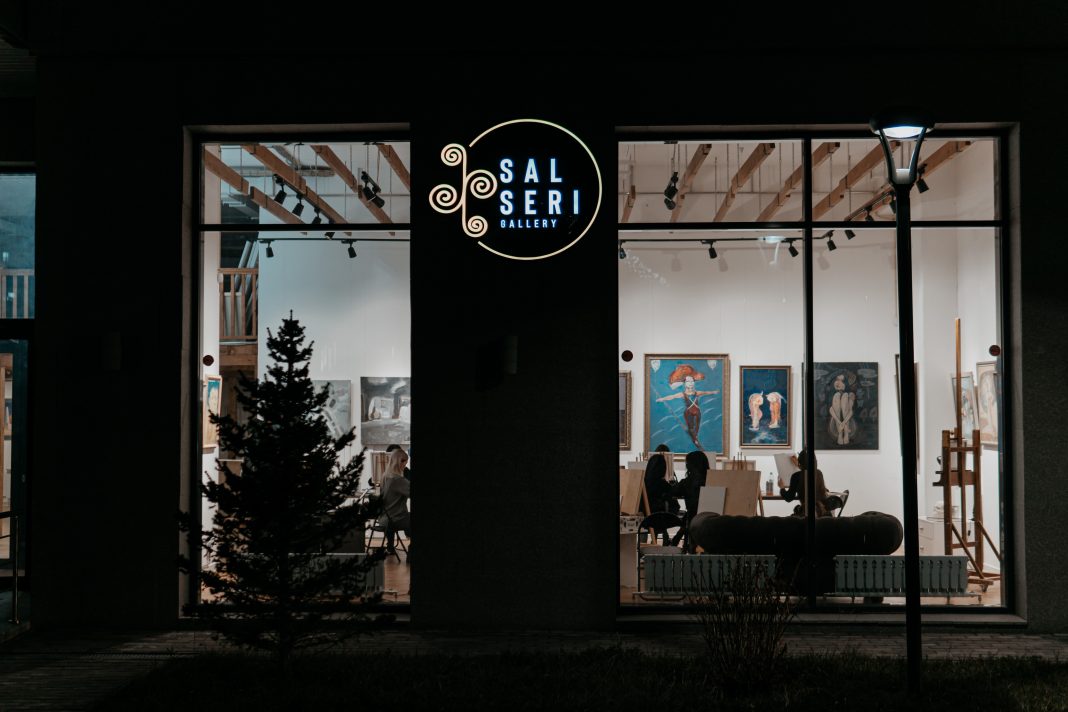 Art plays a huge role in human life, being a manifestation and expression of one's creative powers.  Art is something in which absolutely everyone can find himself, simply by picking up a brush and boldly bringing it to the canvas.  Art Studio Sal-Seri opened in the capital of Kazakhstan quite recently – about a half month ago.  Its director is a talented young artist, Nuray Medeuova.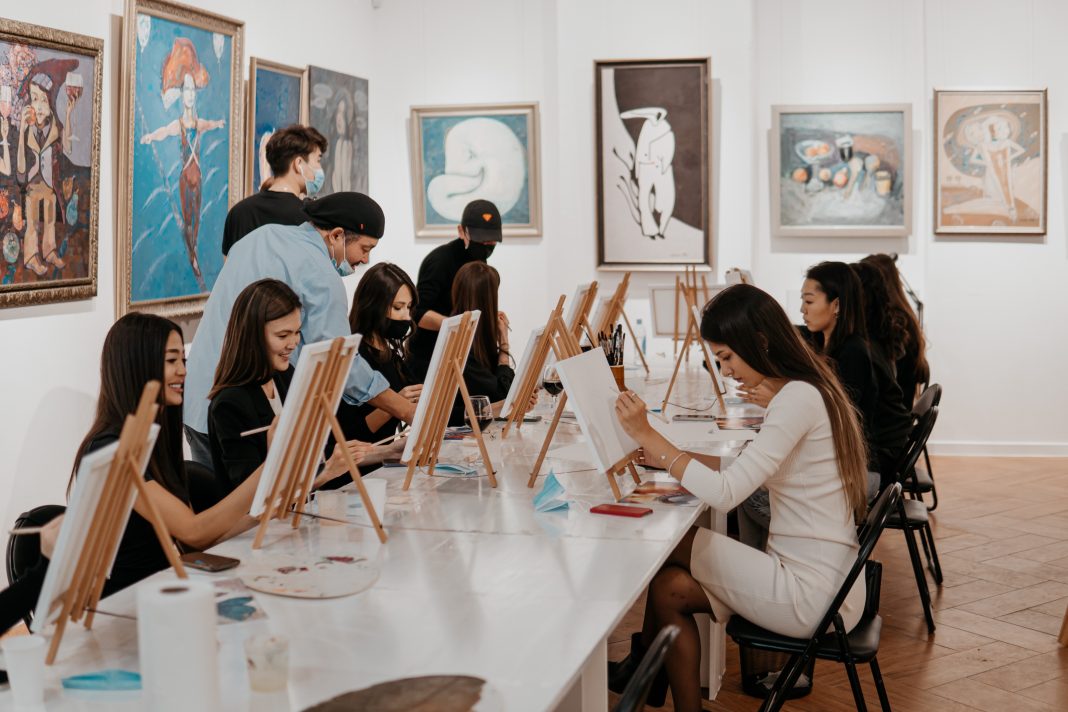 It was upon her move to Nur-Sultan that the idea to open an art studio came to her. The sharp contrast in the field of culture between the capital and her native Almaty inspired Nuray to do everything possible to instill a love for creativity, that great and important element in the development of society and us humans as a society.
Active support for her project came from her previous teacher, a member of the Union of Artists of Kazakhstan, Arystan Smagulov.
"Now, during this period of forced isolation, self-development is very important.  We want to do everything in our power to introduce art to as many people as possible.  Because in Kazakhstan, very few people understand it now, especially the fine arts."
By the will of fate, it so happened that both Nuray and Arystan had moved to Nur-Sultan: Nuray to pursue a career as a lawyer, following completion of her studies, and Arystan to teach at the Kazakh National University of Arts.  Eventually, they came up with the idea of opening their own gallery.  They saved up the necessary funds and bought a location.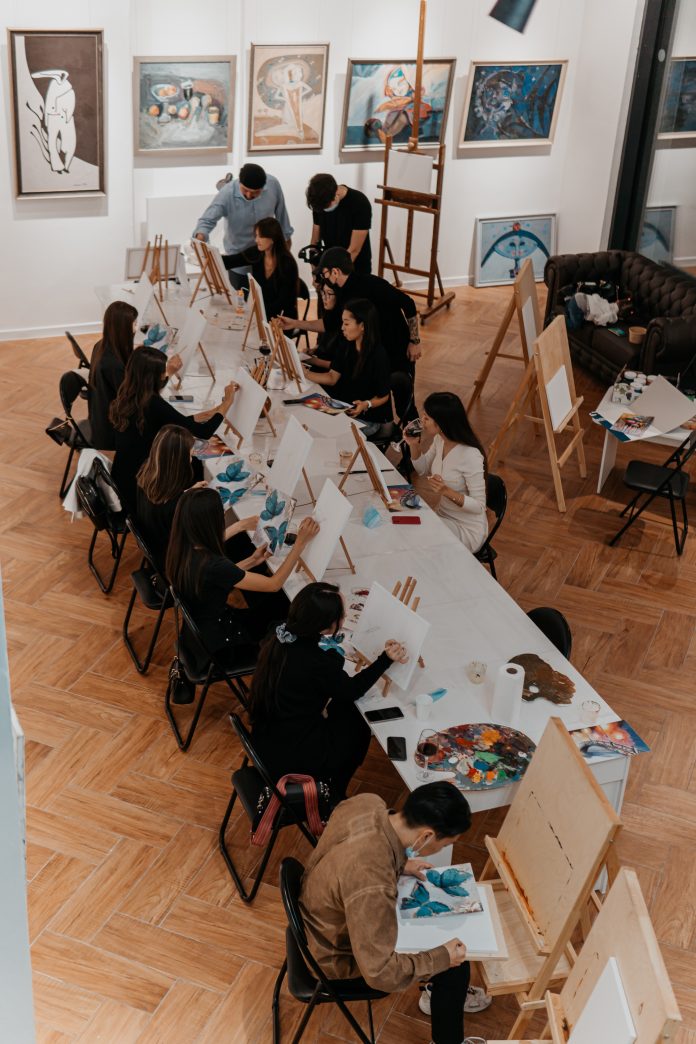 At first, before the quarantine, Nuray and Arystan used the building as a studio where they could just draw.  As they realized they wanted to contribute in every possible way to the development of culture in the capital, they decided to attract and make art accessible to all young people interested in painting.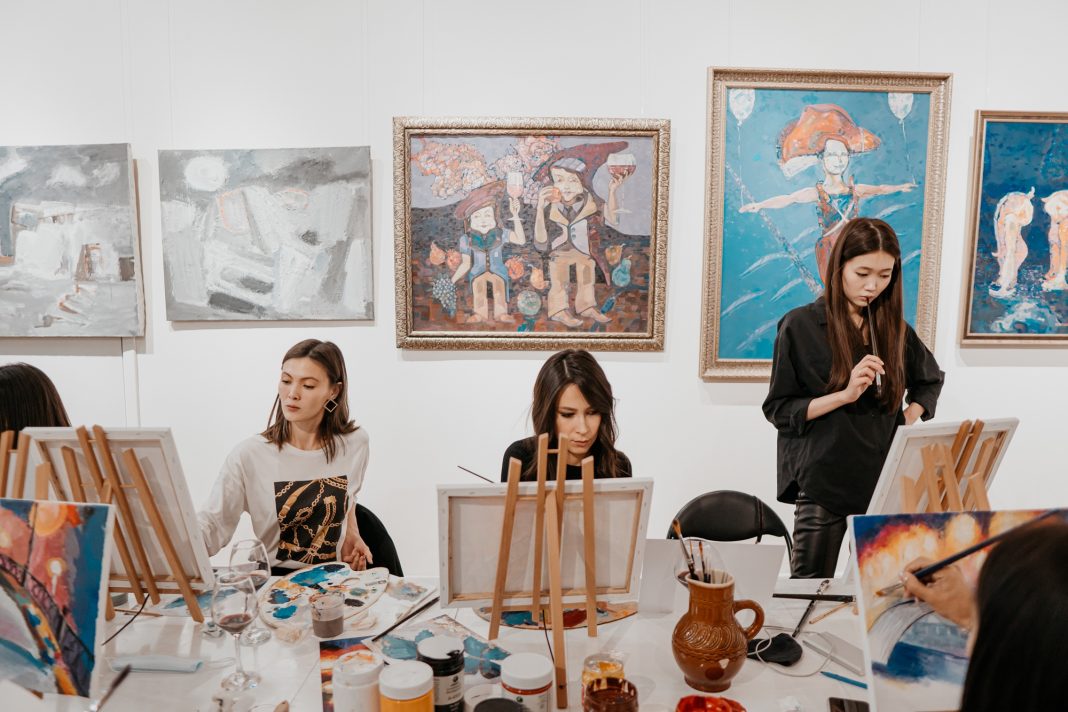 Nuray came up with the interesting name Sal-Seri.
Sal and Seri are traditional Kazakh art workers who were artists in the true sense of the word.  They were skilled singers, storytellers, wrestlers, magicians, and riders.  There were many similarities between sal and seri, but there were also certain differences.  Seris were more restrained than sal. They dressed richly and tastefully, and were courteous and polite with everyone. Sal, on the other hand, were distinguished by a certain extravagance both in dress and in behavior.
Nuray hoped that this name would convey that the doors of their art studio are open to all artists, both classical and liberal ones who love surrealism and abstraction.  Indeed, even despite the fact that all artists are different, they are still a huge creative family.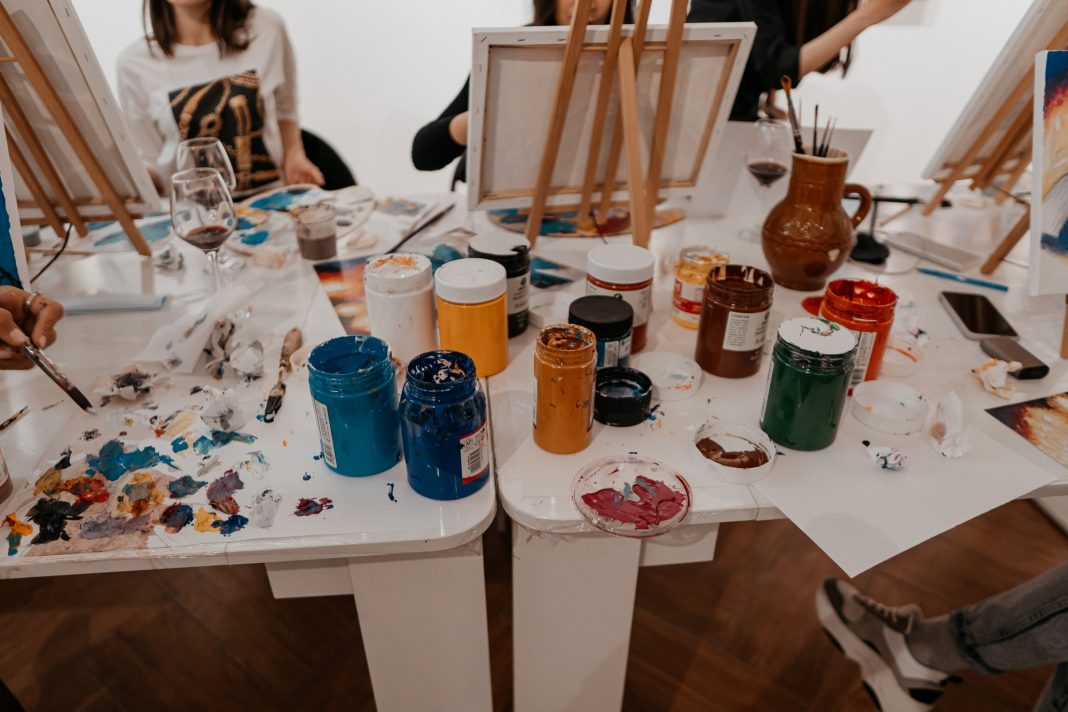 The official opening of the gallery was originally scheduled for mid-October, but due to the coronavirus pandemic, it was decided to postpone the event on this occasion.  The gallery exhibited paintings by young artists so that people could drop in and get acquainted with the work of contemporary Russian talents.  Works of artists such as Arman Baymuratov, Azat Tabiev, Malik Dyusembayev, Nurzhan Sautbekov, Aibek Abdrashit and others can be viewed there.
In addition to exhibitions, Sal-Seri art studio also hosts art parties, master classes and drawing lessons.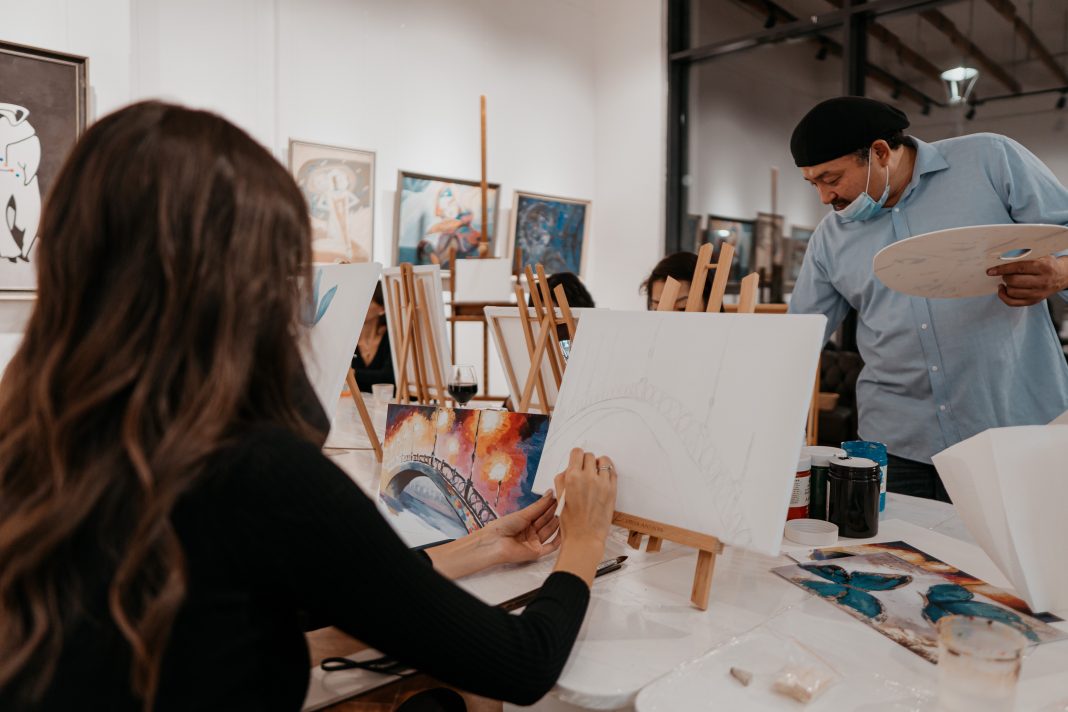 "We organize art parties to show our guests how easy and fun it really is to paint.  You know, I've often noticed that some people get a little anxious when they sit in front of the host.  They seem to fall into a stupor, not knowing what to draw.  So we hoped to help people get rid of this anxiety with a more informal "art party".  We give guests any painting or theme to choose from and they try to portray it.  It is always very interesting and surprising to observe how gradually with each new stroke of the brush, the movements of the hands become more confident, and the eyes become more keen on the process, " Nuray said.
The art studio periodically invites various established professional artists to give master classes to young artists online.  Thus, artists from New York have already shared their experience with Kazakhstani painters, and in the future the art studio plans to attract as many artists and various galleries as possible from around the world.
Another component of Sal-Seri is a drawing school for both children and older people.  However, due to the coronavirus pandemic, the number of students is currently limited.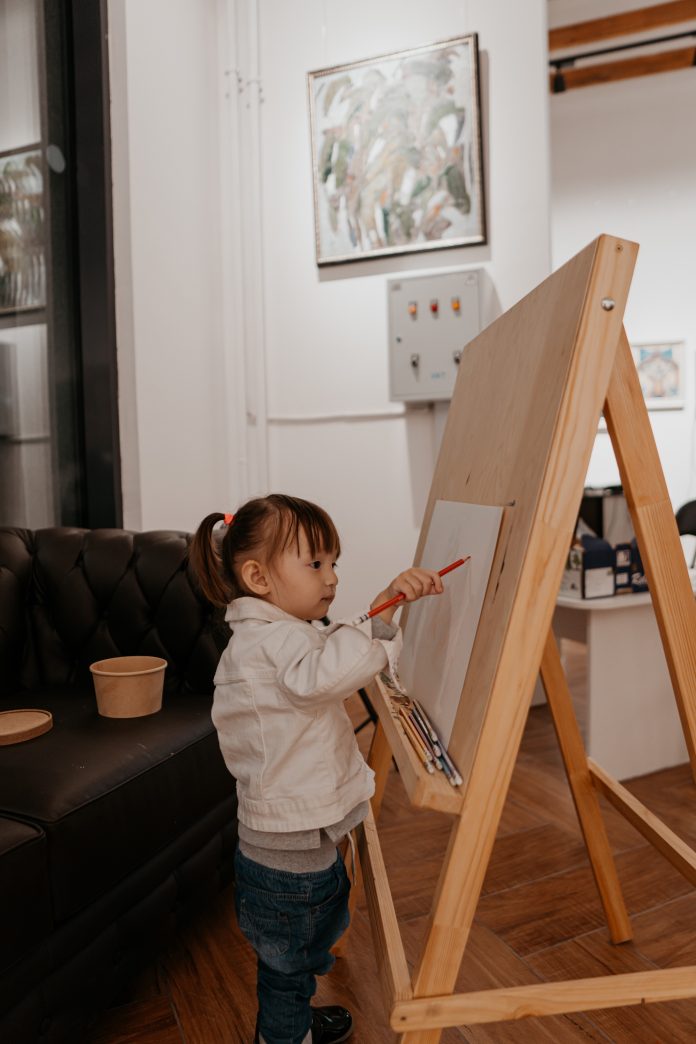 Distinguished artists such as Arystan Smagulov and Sulushash Alimbaeva, both members of the Union of Artists of Kazakhstan, teach in the art studio, as well as Nuray herself, who gets great pleasure from the teaching process, because she has always dreamed of raising a new generation that will love creativity.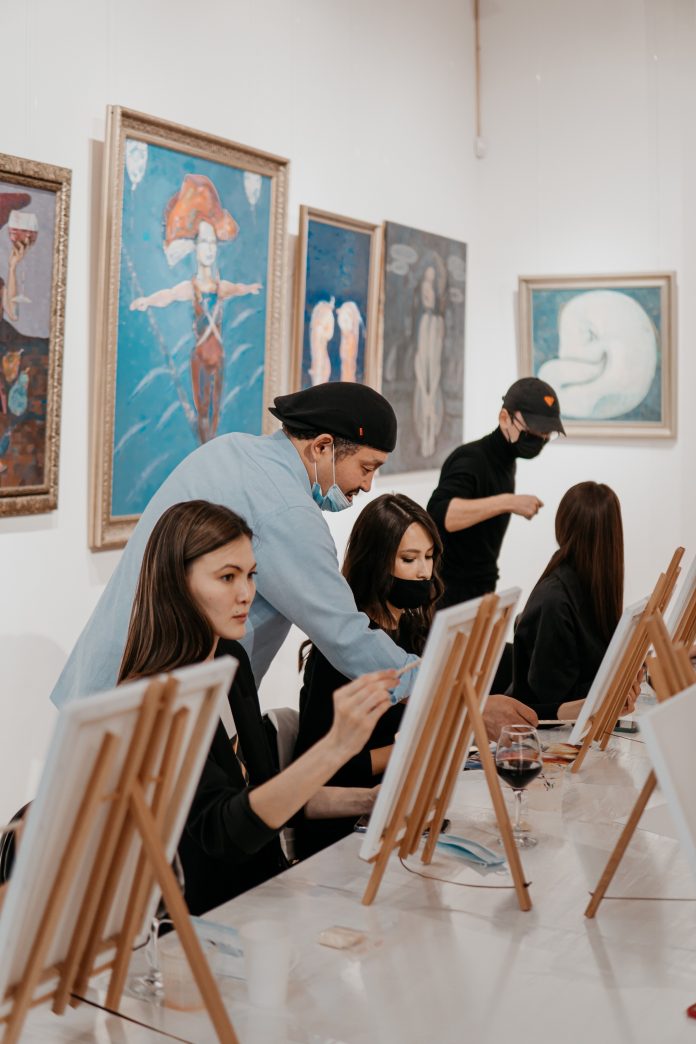 Nuray has always been artistically talented, drawing since early childhood, under the influence of her mother and grandmother.  She believes they gave her an excellent grounding upon which her creativity took wing.
The artist does not define herself as belonging to any particular genre, feeling that she is searching for creativity.  She likes to paint a wide array of genres, including still lifes, landscapes, and portraits, but most of all her work is associated with surrealism and symbolism.
Since childhood, Nuray was inspired by harsh negative subjects, which was reflected in her paintings.  Due to the gloomy subtext, the artist's works were rarely allowed to be exhibited at school, but her mother and grandmother always supported Nuray, promising her that if not at school, then in the future these works would certainly be interesting and find their admirers.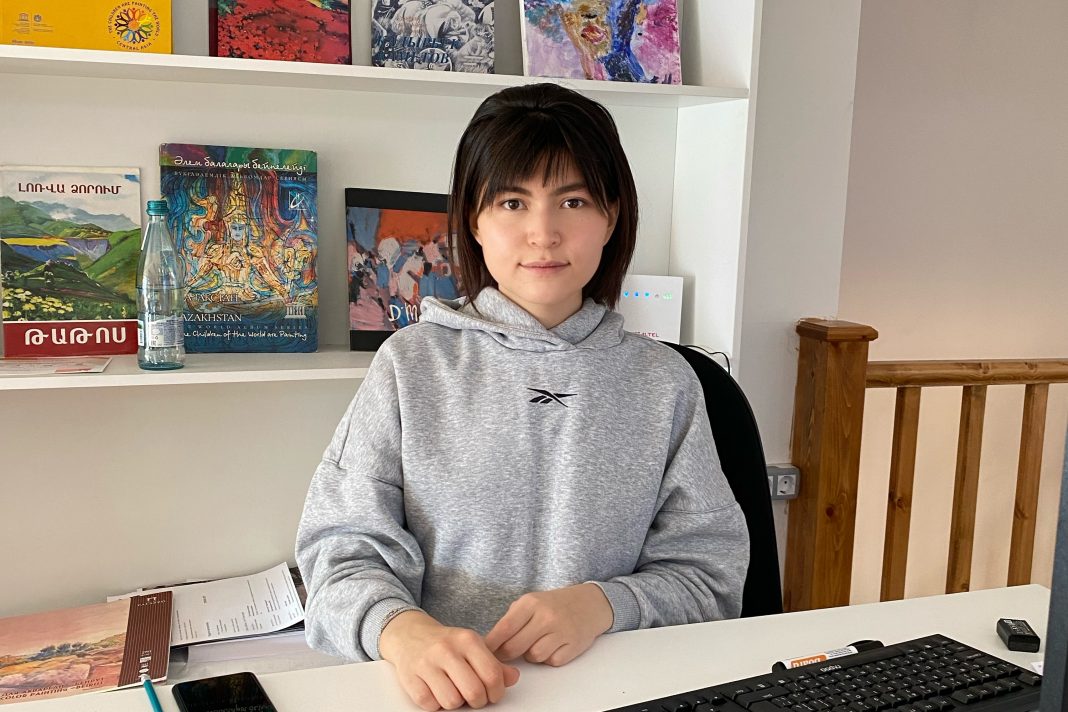 Nuray graduated from the Faculty of Law at the University of Edinburgh.  She believes that the art of painting and jurisprudence are very similar, since lawyers have an abstract mindset, and need to think interestingly outside the box.
Thus, Nuray childhood's hobby, supported by relatives, led to the fact that a new artistic space appeared in the Kazakh capital. Now, with her older colleagues, the girl wants to make fine art more accessible and understandable for everyone.
Sal-Seri Art Studio can be visited free of charge from 9:00 to 22:00 at Sauran 42/1, Nur-Sultan.