Kazakhstan singer Dimash Kudaibergen shared that he plans to hold a concert in Latin America one day. This statement was made by the singer during his live broadcast, which greatly excited Brazilian fans who dream of Dimash's visit to their country, writes the Brazilian newspaper "Extra".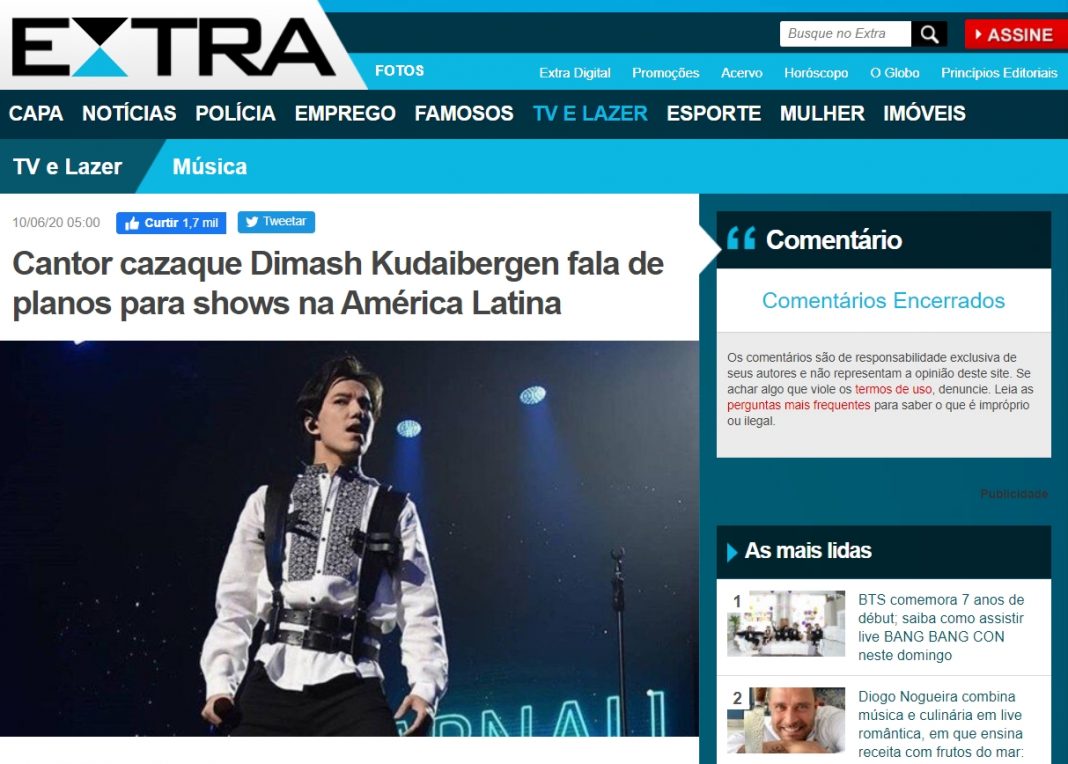 The young musician from Kazakhstan mentioned Brazil during a conversation with his fans at his last live broadcast on May 24. Dimash's father, Kanat Aitbaev, further confirmed that concerts in Latin America could take place in the future:
"Previously, we have received offers for concerts in Latin America. However, due to the coronavirus infection pandemic, we had to postpone it for a while. When the quarantine is over and the organizers come to us with a concrete offer for concerts, we, of course, will take this into account. For us, concerts in Latin America are very interesting".
And the Brazilian Dears have good reason to believe that their country will be included in the next Dimash tour, since the singer's fan club in Brazil is growing every day and has gained worldwide fame among other fan clubs of the Kazakhstan performer.
Dimash Kudaibergen Fã Clube Brasil (DKFCB) planned to hold a meeting in Brasilia on May 24 to celebrate the singer's birthday together. The meeting already had a certain program, during which it was planned to raise funds for institutions that teach music to children with disabilities. However, the charity event had to be postponed due to the COVID-19 pandemic. Instead, the Brazilian Dears conducted it remotely.
The fan club collected 3,100.00 Brazilian reals (~613.67 USD), selling autographed things from Dimash that were brought from Eastern Europe. The money raised was donated to buy almost a ton of food and personal care for low-income families.
"We decided to hold a charity event in honor of Dimash's birthday, as he inspires us to love, form friendship, be sympathetic and build solidarity. We are sure that this is a very valuable gift for him," said Tatiana Ribeiro, administrator of the Brazilian fan club.
Dimash Kudaibergen Fã Clube Brasil was founded in 2018. In addition to official accounts on social networks, Brazilian Dears also have their own blog, which is dedicated not only to the singer's career, but also to the culture and history of Kazakhstan. The blog is maintained by Sabrina Masiel, who finds information from the Embassy of Kazakhstan in Brazil.
"In each blog post, we also talk a little about Dimash's country. Therefore, for these posts we use folk and traditional music. Pop music is published on other social networks of our fan club," explained Sabrina Masiel.
November 15, the Dimash Kudaibergen Fã Clube Brasil will celebrate its second anniversary. If possible, a meeting is planned to be held in Brasilia, (as was the birthday celebration planned on May 24, if the outbreak of the coronavirus pandemic had not happened). Last year, the DKFCB managed to hold three meetings: In São Paulo, Rio and Recife.
Translation by Dimash USA Fan Club