Sybyzgy, the versatile and wondrous Kazakh folk musical instrument, has captivated nomadic peoples since ancient times with its pure and unique sound.  Once almost dissolved in the pages of history, sybyzgy has now begun to gain popularity again in modern Kazakhstan.
Every year more and more masters achieve professional levels of sybyzgy playing. And today the DimashNews editorial office presents you a short interview with one of them — Dimash's instrumentalist Sandzhay Almishev.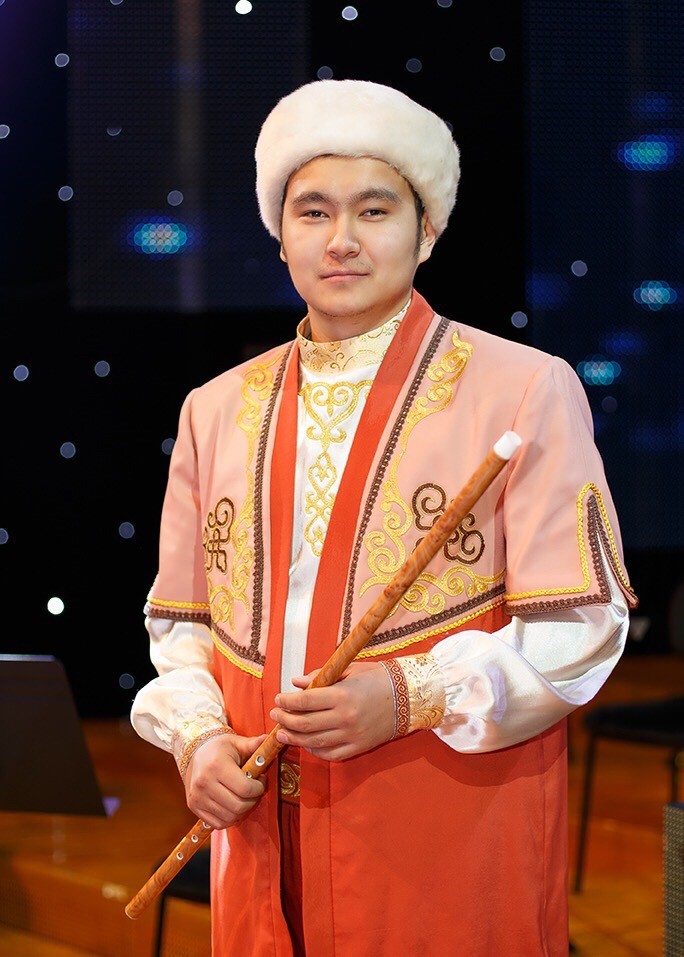 DN:  Sandzhay, your playing on the sybyzgy has never left your listener indifferent. Your performance sounds so beautiful and amazing! Please tell us a little about yourself and how the world of music opened its doors to you.
SA: Thank you very much for such a high assessment of my work! I was born on March 30, 1994 in the city of Tver, Russian Federation. When I was 3 years old, my family and I moved to Zhezkazgan, and it was from here that the history of my creative path began. When I was in school, my mother sent me to a dombra circle.  Thereupon, the study of music inspired and impressed me so much that I made a firm decision to study music professionally. In 2013, I graduated with honors from the Zhezkazgan College of Music, in the kyl-kobyz class, after which, without hesitation, I continued my studies at the Kazakh National University of Arts in Nur-Sultan. Since 2014 I have been playing as part of the Presidential Orchestra of the SSS of the Republic of Kazakhstan.
DN: What attracted you to the sybyzgy? How could an instrument, once forgotten by our people, conquer you? What can you tell us about it?
SA: The sybyzgy is really a beautiful and incredible sounding musical instrument. This is a type of longitudinal flute of many nomadic peoples and peoples of today's Central Asia. We all have different names for it. Kazakhs call it sybyzgy. The sybyzgy disappeared on the territory of present-day Kazakhstan in the last century, due to many factors.  For example, the great migration during the Dzungar invasion, the complexity of the playing, the gradual disappearance of the reed from which the instrument was made, and so on. As a result, one of the most common instruments among the nomads became the rarest. However, with the onset of Independence, our people were able to establish a connection with the Kazakhs living in Western Mongolia and China, who have preserved and continue to develop the art of the sybyzgy. Thus, adopting their skills, we have gradually salvaged an earlier forgotten instrument.
DN: It's great that this truly unique instrument is returning to the traditional musical art of our people.  However, how did you learn to play it?
SA: I learned to play the sybyzgy in college from my friend and fellow student Azamat Bakia, who, by the way, is the creator of the modern sybyzgy that we now use. He told me once: "Learn it. For it won't be useless!" I refused to do so for a long time, believing that my playing of the kobyz was quite enough for me.  But he kept on insisting, so in the end we agreed that I would learn how to make at least a sound. It was after moving to Nur-Sultan that my interest in this instrument awoke. After entering KazNUI, I got a job in the Presidential Orchestra as a sybyzgist and began work on improving my playing technique. Having achieved success on this path, I went on to develop the performing and technical capabilities of the sybyzgy, and expanded the boundaries of the range and repertoire of the instrument as a whole.
DN: Do you play any other musical instruments?  Which one do you like best?
SA: In addition to the sybyzgy, I also play the piano, the kobyz, the dombra, the Azerbaijani instrument balaban and the Chinese flute di. I love all instruments dearly, but above all, the sybyzgy occupies a special place in my heart.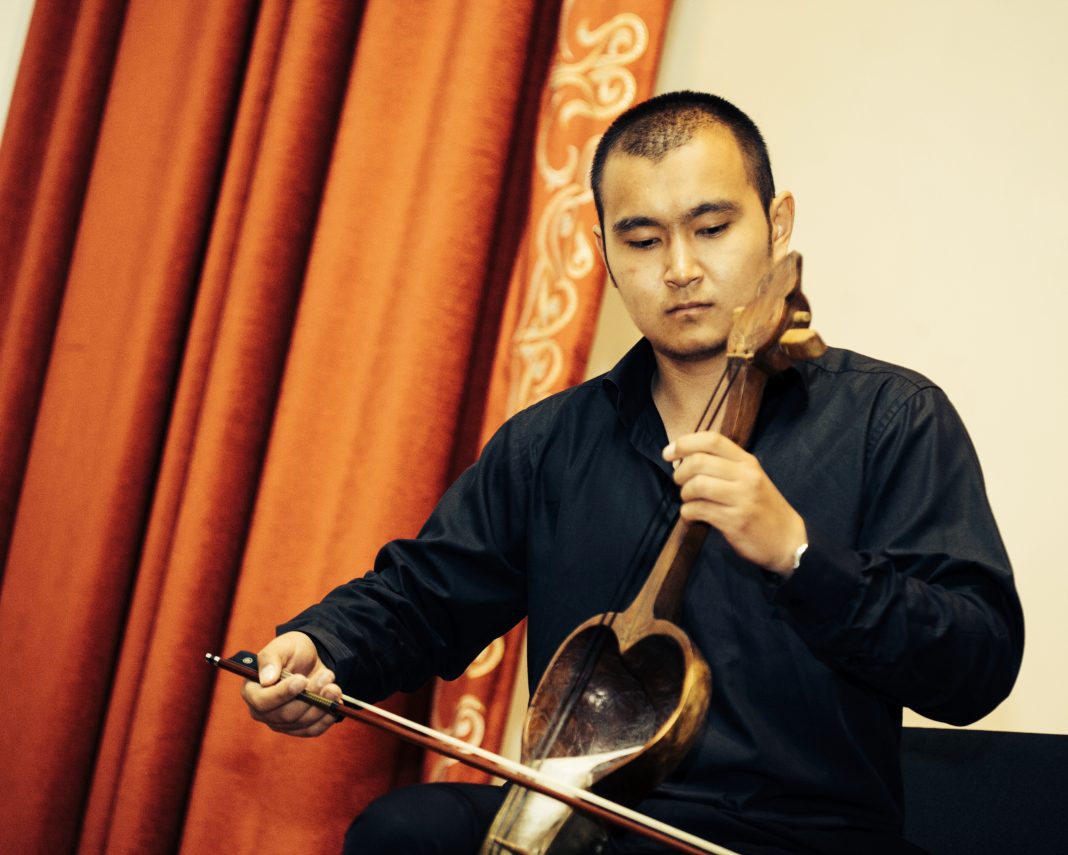 DN: Sandzhay, please tell us how you started working with Dimash?
SA: We started working with Dimash after his first solo concert in Nur-Sultan "Bastau" in 2017. At the time, the sybyzgy had to be recorded on the Kazakh numbers. Thus, after a successful recording, I had the opportunity to perform my part at a concert. From that very moment I became part of Dimash's team, performing with him at every concert.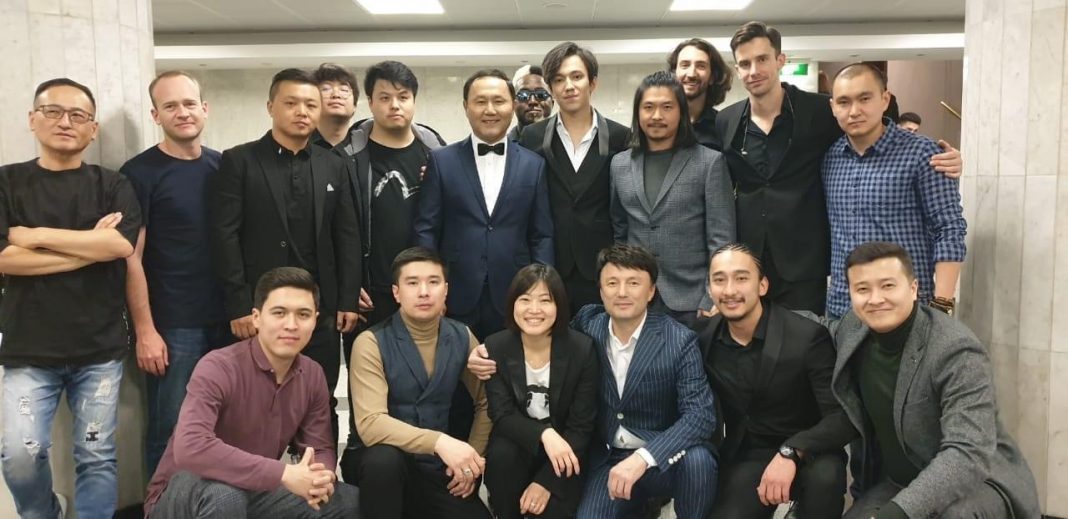 DN: Which of the concerts was the most memorable?  Are there interesting moments that happened during the tour that you can share?
SA:  It's hard to say, because all concerts are special in their own way. But if I had to choose, then perhaps the most memorable concert is the one in New York.  These were really impressive and inexpressible emotions. As a matter of fact, the most interesting moment happened to me after the concert in Moscow.  As Aikyn told you once, after the Moscow concert, we went out into the street with other instrumentalists and met Dimash's fans. When they saw us, they asked for our autographs and a photo. Most of all, this moment is memorable because of the fact that Dimash's foreign listeners are interested in our culture and our folk instruments. One of the Dears had a dombra tattoo on her arm, made, by the way, very skillfully, colorfully and in an original design. That is, it was clear that this was not just a picture of a dombra from the Internet. I was really impressed!
DN: Do you feel the excitement before entering the big world stages?
SA: Of course, the first few seconds before going out are always exciting. But when I finally find myself on the stage, I feel nothing but a feeling of pleasure and joy!  Especially when I see such a huge and invaluable support from the audience, they charge us with their incredible energy, leaving no room for excitement and fear.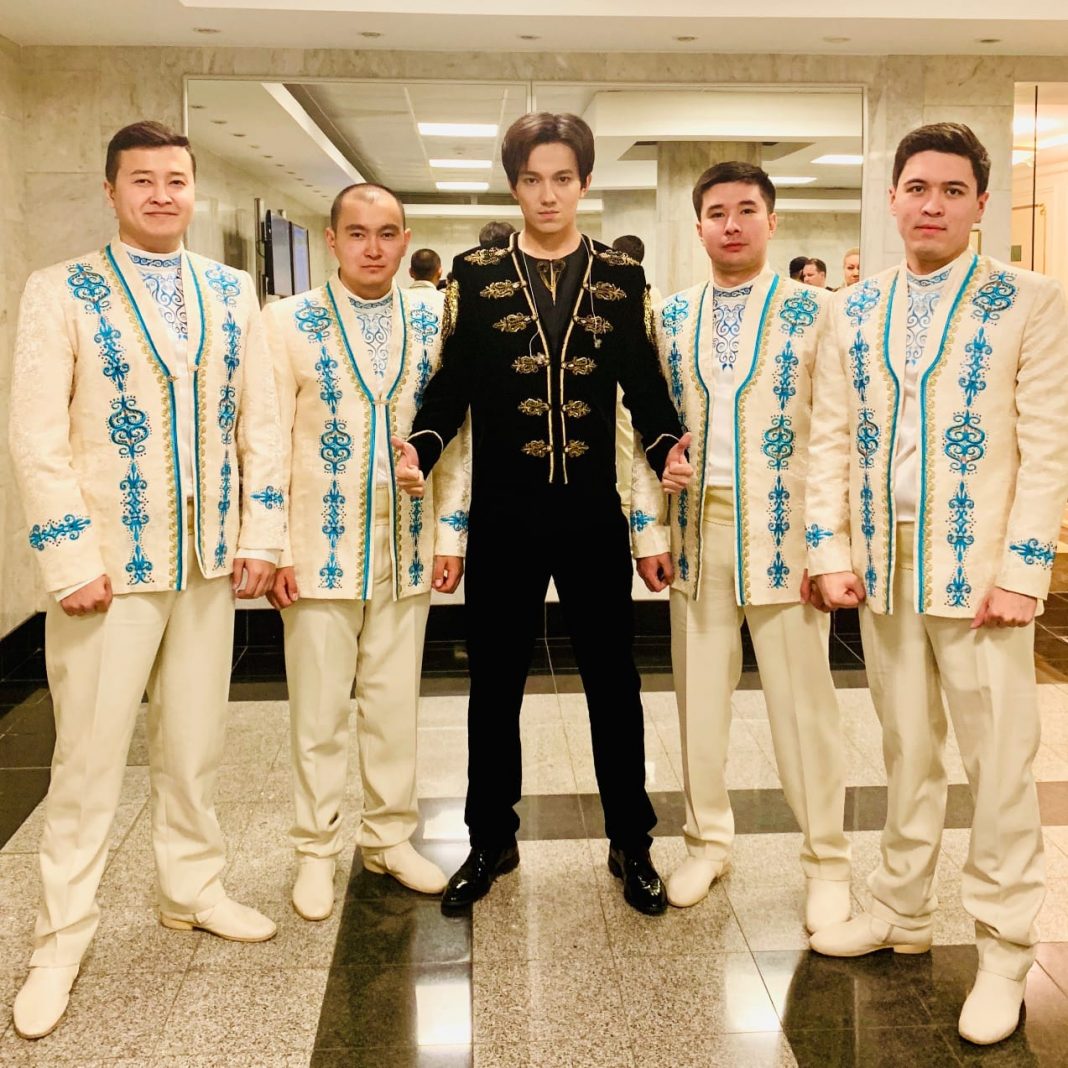 DN: Have you ever had to write your own music?
SA: No. Perhaps the time has simply not yet come.  But I think that one day in the future I will definitely have a desire to create something of my own, compose something.
DN: What genres of music do you like? How do you feel about contemporary music?
SA: Most of all, of course, I like ethnic music in all its manifestations and ramifications, except, perhaps, ethno-jazz. And modern music … if you mean pop culture, then to be honest, I'm not a big fan.
DN: How was this difficult quarantine time for you?
SA: We can say that it turned out very fruitful! I did a lot of creative work, a lot, where I participated. I also wrote a master's thesis and defended a master's degree in art history.
DN: And finally, please share your plans and goals for the future.
SA: I have a lot of goals and plans. Unfortunately, I cannot disclose them now in the interests of competition. But I hope that soon I will be able to surprise you with something!
DN: Thank you very much for the interesting conversation!